Archbishop Paul Russell -- Boston priest and Vatican diplomat
---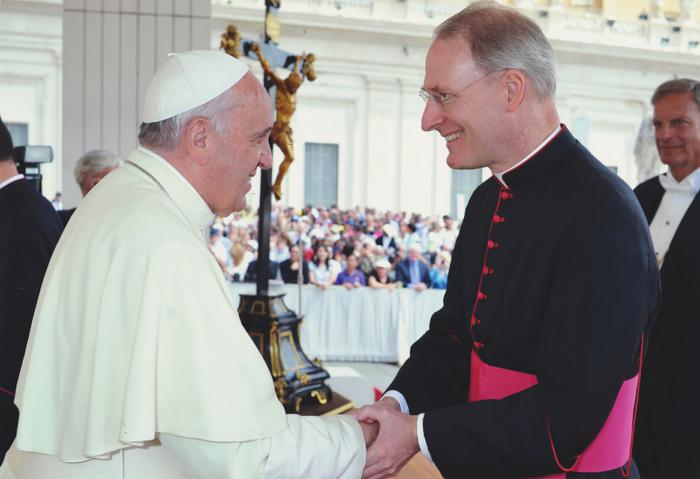 Pope Francis with Msgr. Russell at a general audience. (2014) Photo courtesy/Archbishop Paul Russell
"I find that my life is a circle -- I keep coming back to a point where I was before, but in a different way," mused Archishop Paul Fitzpatrick Russell, newly appointed Apostolic Nuncio to Turkey and Turkmenistan. "That's the way God has worked with me, I guess."

On June 3, Bishop Russell returned to the Cathedral of the Holy Cross in Boston -- the place where 28 years ago he was ordained to the priesthood -- to be ordained archbishop.

"When the pope appoints someone apostolic nuncio and simultaneously appoints them bishop, many are ordained by the Holy Father at St. Peter's Basilica," he explained. "That was offered to me as a possibility. I could also have been ordained at the Church of St. Paul Outside the Walls, or in Michigan where most of my family and friends live."

"But I am a priest of the Archdiocese of Boston. This is my home," he continued, his voice full of emotion. "I am a member of this presbyterate. This is my diocese. I was ordained a deacon and a priest at the Cathedral of the Holy Cross, so I felt I needed to come back here to be ordained bishop and become apostolic nuncio."

Bishop Russell was born on May 2, 1959 in Greenfield, Mass. to Isabelle Fitzpatrick and the late Thaddeus Russell. He lived in Shelbourne Falls until he was five years old.