Mass. General Chapel marks 75 years
---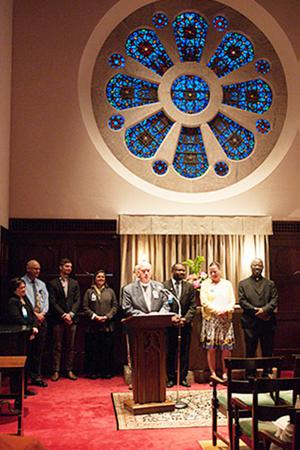 Members of Mass. General Hospital chaplaincy staff offer closing blessings at the service to mark the chapel's 75th anniversary. Pilot photo/courtesy Mass. General Hospital
BOSTON -- On any given day, a visitor to Massachusetts General Hospital's chapel may find a nurse praying for her patients, a food service worker silently praying the rosary, a patient's worried relative seeking consolation or a homeless person seeking a moment's rest.

"It really is Mass General's common room, where people all come together, from very different walks of life, who are all seeking the same thing in that chapel space," said the Rev. John Polk, an Evangelical Lutheran minister who serves as the Director of Chaplaincy at Massachusetts General Hospital.

Rev. Polk helped lead a May 25 service to celebrate the chapel's 75th anniversary. Since the Gothic Revival Chapel first opened on April 25, 1941 on the first level of the hospital's Baker Memorial Building, countless men and women of different religious traditions have sought refuge there.

"They all come for the same reason; for consolation, for peace, prayer, to communicate with God. Sometimes they come here to cry," said Father Joseph Boafo, a Catholic priest who has served as a chaplain at Mass General for three years.

"It's a blessing to have the chapel here," Father Boafo added. "Every Sunday, we have the Holy Sacrifice of the Mass and we have different services."