Spring Celebration raises $1.1M to support Catholic Charities
---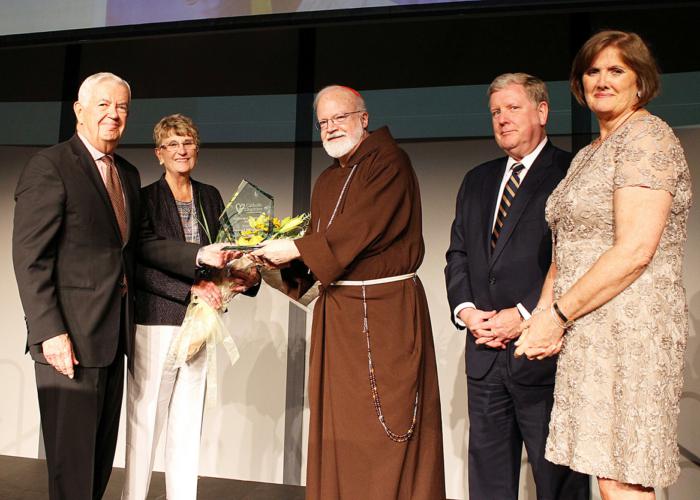 Bill and Joyce Cummings receive the 2016 Justice and Compassion Award from Cardinal O'Malley, accompanied by Catholic Charities board chair James D. Gallagher and president Deborah Kincade Rambo. Pilot photo/Michael Maloney, Courtesy Catholic Charities
DORCHESTER -- Over 400 guests helped raise more than $1.1 million to fund the many programs and services run by Catholic Charities of the Archdiocese of Boston at the annual Spring Celebration held May 11 at the John F. Kennedy Presidential Library and Museum.

"Without the generosity of the people in this great hall, we would be crippled in the work that we do," noted archdiocesan Secretary for Social Services Father Bryan Hehir during the benediction.

Referring to those served by Catholic Charities as "the hidden face of Christ," Father Hehir added, "for the privilege of being part of their lives, we give thanks."

Following the dinner, event co-chair William B. Parent, president and chief executive officer of Blue Hills Bank, introduced Emmanuel Sebit, a Catholic Charities client from Lynn, originally from South Sudan.

"Our client-speaker is a refugee and an immigrant, and that makes him part of a very important group of people -- important for the story of America and the American dream," Parent said.

Sebit recounted how at the age of 9 he, together with his mother and two younger sisters, fled their village in South Sudan.

"I can't say I remember much about what my mom went through. All I can remember is the journey that we traveled --the long walks through the bush -- until we found ourselves in Kenya," Sebit said.

For 11 years, he and his family remained in a refugee camp in Kenya.