Priests reflect on joys, challenges of priesthood at convocation
---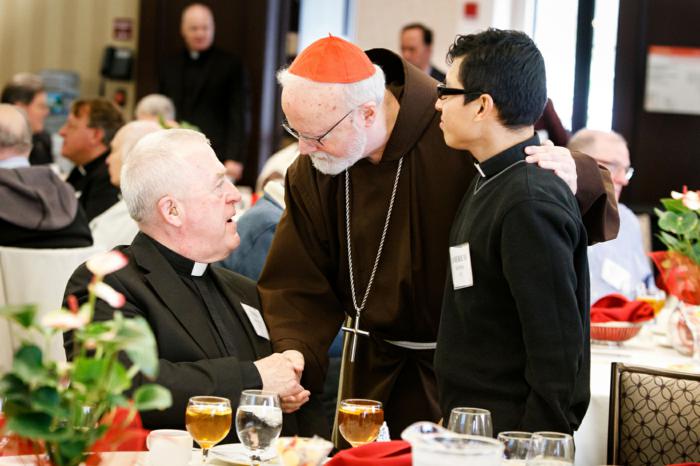 Cardinal O'Malley greets Father Thomas Keyes of Our Lady of Hope in Ipswich and Transitional Deacon Joel Santos at the archdiocese's priest convocation held May 3 in Norwood. Pilot photo/Gregory L. Tracy
NORWOOD -- Priests from across the Archdiocese of Boston gathered at Four Points by Sheraton in Norwood, May 3, for a day of fraternity and to reflect on the challenges and rewards of being a priest.

Father John E. MacInnis, pastor of St. John the Baptist Parish and St. Thomas the Apostle Parish in Peabody, offered the day's first talk, titled "Just a Parish Priest."

The talk focused on the important work parish priests do, as well as the personal challenges they face in their ministries. Father MacInnis listed three specific challenges the presbyterate face: Diversity, multiplicity, and ambiguity.

He said diversity can be a positive thing, as it brings people from all over together, but it can also be a euphemism for division, which can cause conflicts. He noted that divides can be mended, however, through "priestly companionship," both on the job and off the job.

Multiplicity, he said, refers to the ever increasing number of tasks priests have to do. Thankfully, he noted, priests have the assistance of parish workers, including laypeople and deacons.

"Let's not forget each other. Brother helping brother," he said.

Ambiguity, Father McInnis said, refers to the challenge of coming up with new and innovative ideas to implement on the parish level. He noted that while sometimes those ideas will fail, it's important for priests not to focus on failures or successes, but instead focus on being faithful to God.