ICSF leads annual Bus Tour of Dorchester Catholic school
---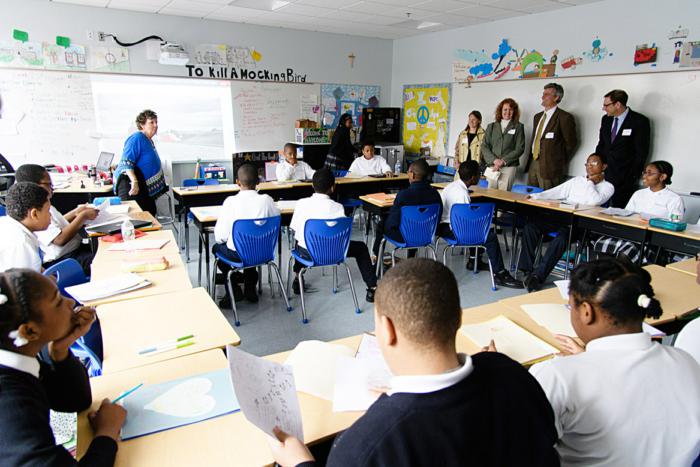 Guests visit a classroom of the Lower Mills Campus of St. John Paul II Catholic Academy, May 5 during the Inner City Scholarship Fund's annual "Bus Tour" to a local Catholic school. Pilot photo/courtesy John Gillooly, Inner City Scholarship Fund
On May 5, 52 professional men and women left their workplaces, boarded a bus in downtown Boston and headed to school.

This year's annual bus tour, sponsored by the Inner City Scholarship Fund (ICSF), took the attendees, most of whom are donors to the ICSF, to the newly renovated St. John Paul II Catholic Academy-Lower Mills Campus.

"On the bus tour we had graduates who attended the school 70 years ago, 50 years ago and 30 years ago and their affection for the school was still strong," said Michael Reardon, director of the Catholic Schools Foundation, the organization that oversees the ICSF.

He noted that although the school's name has changed, and the building has been completely renovated, the alumni shared their love of the school with current students.

"Catholic education was vital to this neighborhood 70 years ago and it is as vital today," Reardon said.

Among those in attendance were philanthropist and investment banker Peter Lynch, together with two of his daughters and his son-in-law. For over 25 years, Lynch has been an integral part of the ICSF, spearheading the fundraising for over 20 years.

As guests arrived, they were treated to student-led tours of the new classrooms. After the tours were finished, everyone was led to the front of the school where principal Lisa Warshafsky addressed the attendees.