Second class of transitional deacons ordained this year
---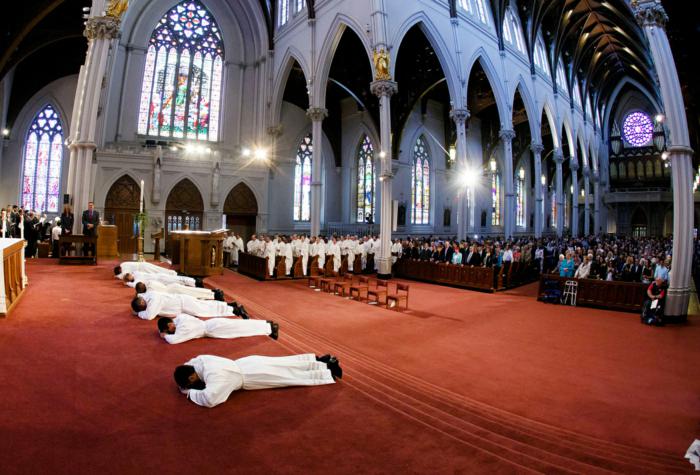 Six ordinands lie prostrate during their ordination as transitional deacons at the Cathedral of the Holy Cross April 30. Pilot photo/Gregory L. Tracy
SOUTH END -- For the first time in decades, Cardinal Seán P. O'Malley ordained a second group of seminarians in one calendar year to the transitional diaconate at the Cathedral of the Holy Cross.

On April 30, Deacons Jason Giombetti, Pablo Gomis Gonzalez, Godfrey Musabe, Wellington DeOliveira, Joel Santos and William Sexton took their last step before being ordained priests of the Archdiocese of Boston.

Beginning with this ordination class, transitional deacons will serve for one full year before being ordained priests. This marks a change from the previous years' policy under which men were ordained to the transitional diaconate in January and became priests in May of the same year.

"You will be deacons of the Jubilee of Mercy," Cardinal O'Malley told the men in his homily. "You will have a full year of gathering experiences as deacons to store in your well for your priestly formation."

The rite of ordination began with the Liturgy of the Word, in which Deacon Stephen LeBlanc, transitional deacon set to be ordained a priest later this month, sang the Gospel. Following the Gospel, the candidates were presented to Cardinal O'Malley, and Father Antonio Medeiros, rector of the Redemptoris Mater Archdiocesan Missionary Seminary of Boston testified that the men were ready to receive Holy Orders.

In his homily, the cardinal noted that the first reading, from the Acts of the Apostles, details the creation of the deacon in the early Church.