Forming the Future: Cardinal Spellman High Library Learning Commons
---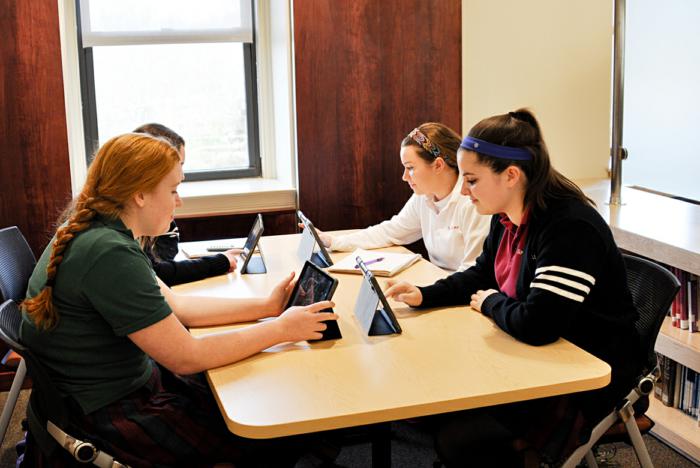 Students use their iPads in Cardinal Spellman High School's new Library Learning Commons, created earlier this year. Pilot photo/courtesy Cardinal Spellman High
BROCKTON -- Students at Cardinal Spellman High School in Brockton collectively received a fabulous Christmas present this year.

After returning from their Christmas break, students entered a school that boasted an entirely new wing. The Library Learning Commons, housed in the former convent of the Sisters of St. Joseph adjacent to the school, is part library, part digital classroom and entirely designed to help students achieve their maximum potential.

"The idea was to design a space that had a lot of the same attributes as a traditional library -- stacks, desks and the like -- but also would lend itself to the way kids are learning," explained Christine Evans, assistant principal of Cardinal Spellman High.

According to Evans, students and educators were consulted as the Library Learning Commons was designed.

The result -- a space that incorporates books, computers, and two glass-enclosed "flexible learning areas." Mac computers surround the circulation desk, facilitating virtual classroom learning. Comfortable chairs dot the space, creating a welcoming atmosphere for extra-curricular activities such as the newly created Game Club. Along the walls are individual tables for quiet study. Two glass-enclosed classrooms, complete with interactive televisions and large computer screens, encourage educators to use Skype to expose students to experts in their fields of study.

"This is an amazing space from beginning to end," Evans said.