Advocacy brings couple to Autism Study Committee
---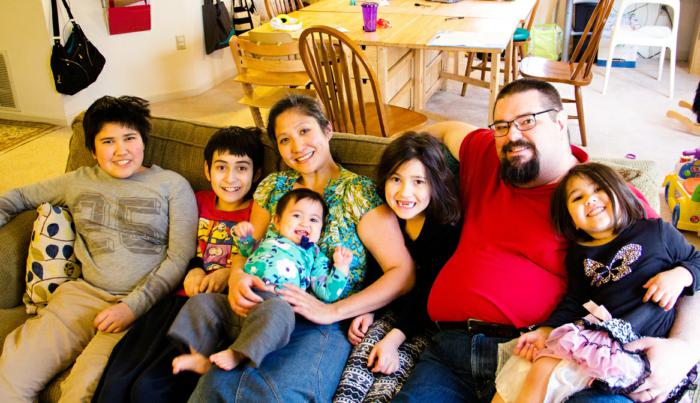 The family of Jeff and Zina Liss are pictured at home earlier this month. Two of their children have pervasive developmental disorder (PDD). Pilot photo/Mark Labbe
NEWTON -- Zina Gomez-Liss, with an 8 month old baby strapped to her back, worked to prepare dinner as her husband, Jeff Liss, tended to their 3-year-old child upstairs. Their three other children, ages ranging from 7 to 13, played in the living room.

As Jeff and his daughter Emma came downstairs, Zina put dinner on hold to speak with The Pilot, April 11, at their home in Newton Upper Falls.

Jeff and Zina are part of the Archdiocese of Boston's Autism Study Committee, as their two oldest children -- Ben, 13, and Owen, 10, both have pervasive developmental disorder (PDD).

Ben has Asperger's, essentially a low form of PDD, while Owen has Pervasive Developmental Disorder-Not Otherwise Specified (PDD-NOS), "a diagnosis applied to children or adults who are on the autism spectrum but do not fully meet the criteria for another ASD such as autistic disorder," according to the website Autism Speaks.

"People say autism is a spectrum, well yeah, we've got it right here," said Jeff.

For Owen, the symptoms are more severe, and the disorder was apparent at a young age, allowing him to receive early intervention.

For example, when Owen was three, "he memorized the periodic table of the elements," Jeff said.

He has this "ability to hold massive amounts of information in his head and spit them out," he continued.

Ben, on the other hand, with much less severe symptoms, was not officially diagnosed until he was nine.