ICSF Dinner Celebration raises over $3M to support Catholic education
---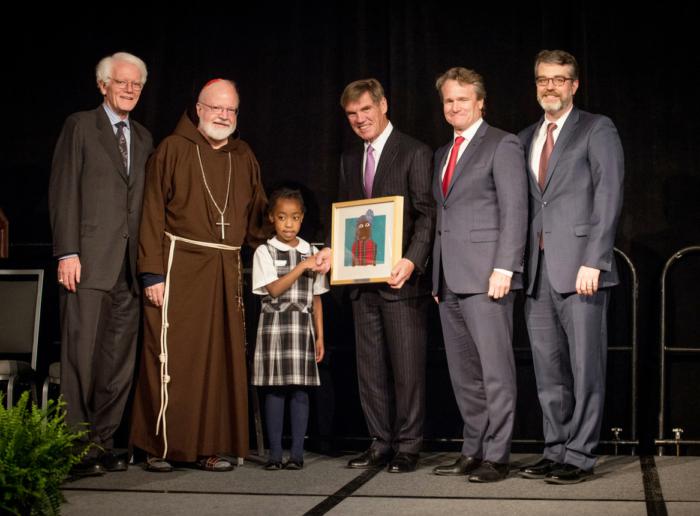 A student helps present Ted Kelly (center) with the Carolyn and Peter Lynch Award for his long-time support of the Inner City Scholarship Fund. With them on stage are Peter Lynch, Cardinal O'Malley, Brian Moynihan and Michael Reardon. Pilot photo/courtesy John Gillooly, PEI Photography
BOSTON -- Every school day, students at Sacred Heart School in Roslindale don their uniforms and prepare themselves to learn. Led by principal Monica Haldiman, the students in grades K-0 through 8 are taught to "Dream Big," as the school's motto asserts.

For 139 of these students, this would not be possible without the Inner City Scholarship Fund (ICSF). The ICSF provides partial scholarships to these students, 73 percent of whom come from single-parent households.

On April 14, the ICSF held its 26th Annual Dinner Celebration at the Marriott Copley Hotel in Boston. The event, attended by over 1,000 people, helped raise over $3.15 million, according to Gina Rindfleisch, development officer of the Catholic Schools Foundation, the organization that oversees the ICSF.

Attendees of the dinner were greeted by students from seven different area Catholic schools who set up displays to show off some of their academic accomplishments. A dance team made up of students from Our Lady of Perpetual Help Mission Grammar School performed for the dinner guests.

Heather Unruh, co-anchor of WCVB, served as the master of ceremony for the evening.

"There's a lot of excitement in the room and we are very happy for that," began Michael Reardon, director of the Catholic Schools Foundation.

He spoke of the impact the ICSF has had helping low-income students develop their potential in Catholic schools.