Merrimack presents honors for inter-faith work
---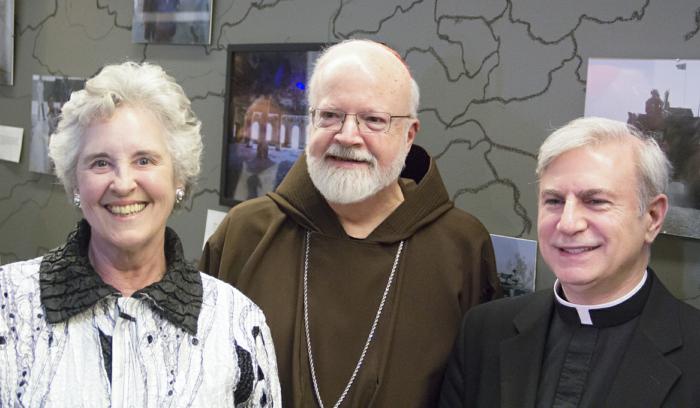 Cardinal O'Malley poses with award recipients Rev. Diane Kessler and Father David Michael at the Merrimack College Center for the Study of Jewish-Christian-Muslim Relations Feast of Faiths and Awards Dinner, April 5. Pilot photo/Mark Labbe
NORTH ANDOVER -- Merrimack College's Center for the Study of Jewish-Christian-Muslim Relations honored four people for their involvement in interfaith work at its annual Feast of Faiths and Awards Dinner, April 5.

"At this year's Feast of Faiths, we celebrate the people who dedicate their lives to interfaith communities. We want our students, and indeed the world, to know and to emulate people like our archbishop, Cardinal O'Malley, who has done so much to advance interfaith relations," said Merrimack president Christopher E. Hopey in his welcome to the students, professors, alumni, and guests who were present at the event.

"He embodies the ideal of Nostra Aetate, the Second Vatican's Council document on the Church's relationship with other religions," he continued.

In his own greetings, Cardinal Seán P. O'Malley noted that it is the 50th anniversary of Nostra Aetate, a document that acknowledges the unity of all people, and said that "It's part of our belief system, and it's part of our identity as Catholics."

"I want to congratulate Reverend Kessler, and Father Michael, and Eileen Jennings, and Maria Haseeb, and all of you for your work to help to make this a better world by bringing Christians and Jews and Muslims together," he said.