Forming the Future: East Boston Central Catholic School's 'House' program
---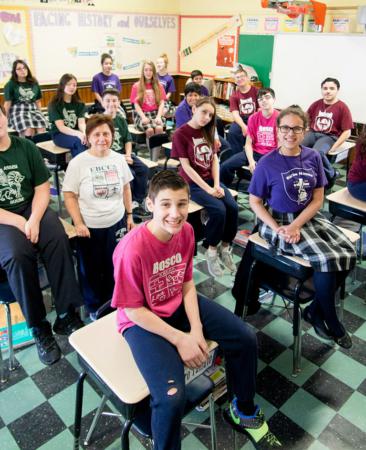 East Boston Central Catholic School teacher Lucy Barnello is pictured with students wearing the t-shirts of their 'house'. Pilot photo/Donis Tracy
EAST BOSTON -- At the opening retreat that begins every school year, sixth graders at East Boston Central Catholic School may feel like they have stepped into the world of Harry Potter.

All their names are entered into a cauldron, and students watch as their names are chosen to belong to a "house."

"It is kind of like Hogwarts," said seventh-grade teacher Lucy Barnello, the house program founder.

"From that day on, until graduation and even beyond, the students 'belong' to one of four houses: Kolbe House, Bosco House, Assisi House and Savio House," she explained.

The House program, which was begun four years ago by Barnello "is an alternative to student council," she explained. "It gets the entire school very involved, and gives each student a sense of belonging to something unique within the school."

Barnello first heard of the idea at a National Catholic Educational Association (NCEA) conference, at which a Catholic school principal from Kansas was speaking about a similar program in his school.

"It got me very excited," she recalled. After the conference, she brought the idea to East Boston Central Catholic principal Maryann Manfredonia, who agreed to implement the program.

Rather than plan everything herself, Barnello reached out to the middle schoolers. They researched saints and ultimately decided that Sts. Maximilian Kolbe, Francis of Assisi, John Bosco and Dominic Savio were the ones they wanted to emulate.