Family brings experience of autism to archdiocese's study committee
---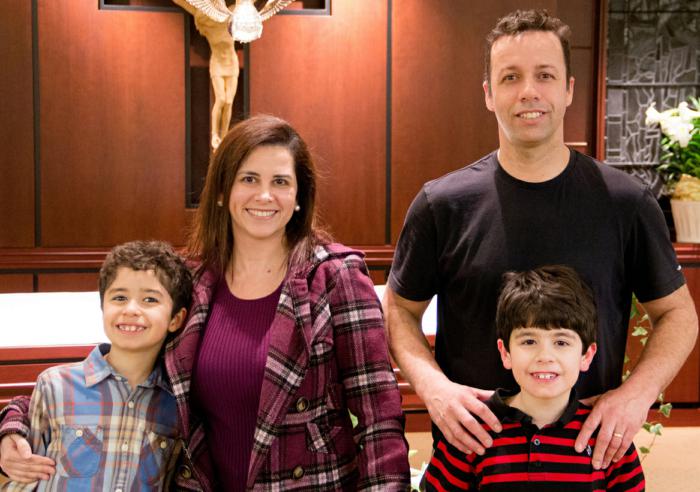 Fernanda and Vladimir Rocha are pictured with their children, Lucas and Raphael, at the archdiocese's Pastoral Center in March. The Rochas are part of the archdiocese's recently formed Autism Study Committee. Pilot photo/Mark Labbe
BRAINTREE -- Fernanda Rocha glanced at her two young children, Lucas and Raphael, as they watched videos on mobile devices. She sat between them at a table in the Archdiocese of Boston' Pastoral Center March 28, as her husband Vladimir tried to get their son, Raphael, to turn the volume of his video down.

As the sounds of the video grew fainter, Fernanda Rocha began to speak about her experience raising the two children, both of whom have been diagnosed with autism.

A part of the Autism Study Committee, the Rocha family had been in the Pastoral Center before. Back in February, the committee, headed by the archdiocese's Office for Persons with Disabilities, held its second meeting there.

In the meeting, and likely in future meetings, the committee considered ways to make parishes and churches more accessible to children with autism, something Rocha has been interested in for a while.

After both of her sons, now ages 8 and 9, were diagnosed with autism as infants, Rocha has been working to ensure that they receive all the help they can get.

She said that doctors were at first uncertain if the boys would be able to communicate properly. She noted that they were "behind in everything," not meeting the same developmental milestones as their peers.

So, Rocha brought her sons to therapy and began learning all she could about the disorder.