Father Finn recognized as 'Outstanding American by Choice'
---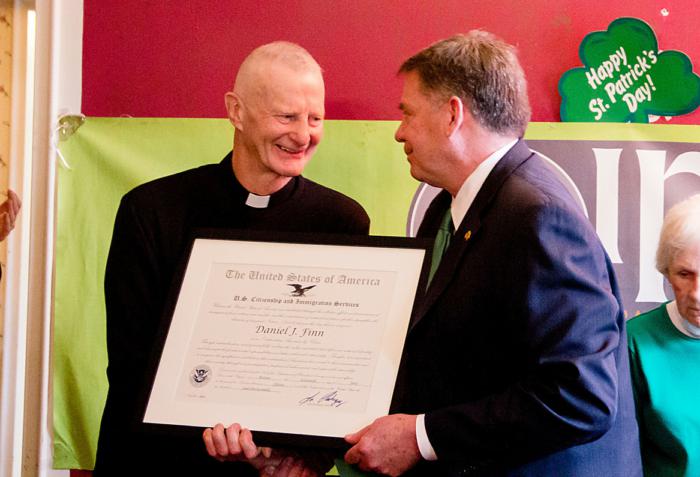 Father Dan Finn receives 'American by Choice' recognition from the U.S. Citizenship and Immigration Services district director Denis Riordan, March 16. Pilot photo/Mark Labbe
DORCHESTER -- Father Daniel Finn was visibly moved as he prepared to receive the Outstanding American by Choice recognition presented by U.S. Citizenship and Immigration Services district director Denis Riordan March 16, at the Irish Pastoral Centre (IPC) in Dorchester.

"Pope Francis talks about the shepherd, the shepherd's need to have the smell of the flock on him, and what better shepherd, what better model, what better example, than Daniel Finn," Riordan told IPC staff and to the seniors from IPC's Senior Citizen Outreach Program assembled to witness Father Finn receive the recognition.

Established in 2006 by USCIS as a way to recognize significant contributions and achievements by naturalized U.S. citizens, the Outstanding American by Choice initiative has recognized over 120 people so far, including author Elie Wiesel, Pepsi CEO Indra K. Nooyi, and former Secretary of State Madeleine Albright.

Last year, USCIS named seven Outstanding American by Choice Recipients, including Father Finn, New York Yankees pitcher Mariano Rivera, and Latin singer and actor Thalia.

While Father Finn was originally presented with the recognition last June during a ceremony in Boston, USCIS had it framed for him and it was presented to him at last week's ceremony.

After receiving the recognition to loud applause, Father Finn offered his immigration story.