Cardinal stresses importance of priests' 'prayer and ministry' at Chrism Mass
---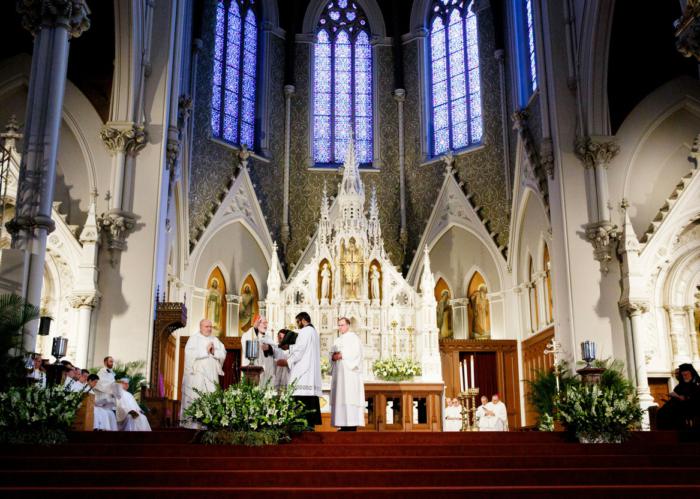 Cardinal O'Malley blesses the holy oils. Pilot photo/Gregory L. Tracy
SOUTH END -- Priests of the Archdiocese of Boston joined Cardinal Seán P. O'Malley for the annual Chrism Mass, March 22, at the Cathedral of the Holy Cross in Boston.

The Chrism Mass serves as a symbol of unity in dioceses throughout the Catholic world during Holy Week each year, as the local bishop blesses the sacred oils used to administer sacraments for the coming year -- the oil of catechumens, the oil of the infirm and the sacred chrism.

During the Mass, also seen as an opportunity to celebrate priestly fraternity, priests renewed their vows and afterwards attended a luncheon with the cardinal and received oils for their parishes.

A tradition of recent years, and in keeping with the day's theme of unity and fraternity, Metropolitan Methodios, the leader of the Boston Greek Orthodox Church, addressed the priests at the invitation of the cardinal as the Mass began.

"I convey the warm wishes of your Orthodox brethren as you continue your spiritual journey this Holy Week to the life-giving tomb of our savior. May you feel his embrace as you venerate his blood-stained cross, and may you experience the joy of his holy resurrection this Easter," Metropolitan Methodios said.

In his homily, Cardinal O'Malley discussed the importance of the Sabbath and connected it to the ongoing Extraordinary Jubilee Year of Mercy.