Lowell church gets a facelift
---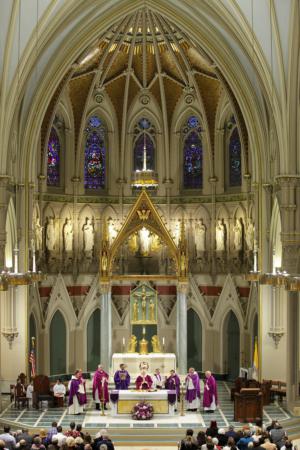 Cardinal O'Malley celebrates a Feb. 27 Mass at Immaculate Conception Church in Lowell to mark the church's restoration. Pilot photo courtesy/O'Connor Studios
LOWELL -- It isn't every day that a church gets a facelift.

But that is exactly what Immaculate Conception Church in Lowell has gotten -- and Father Nicholas Sannella, pastor at Immaculate Conception, cannot be happier.

"We were able to do everything that we wanted to. We cut no corners, and now everyone who comes can't believe how wonderful it all is," Father Sannella said.

According to Father Sannella, the renovation was necessary because years of use had taken its toll on the building's structure. Immaculate Conception had been built in the 1870s, and although a study was conducted that determined the structure was sound, there was water damage to its granite exterior, the roof was leaky, the pews uncomfortable. Then, in 2010 a huge chunk of plaster fell from the ceiling in the nave of the church, crashing on the pews below.

"We were very fortunate that the church was empty when that happened," recounted Father Sannella. "Knowing how dangerous it was, we were forced to close the upper church and began to use only the lower church."

Father Sannella then began looking for bids to restore the church. Many companies were willing to take on the project, but their bids were "quite high," he said.