CRS president calls for climate change awareness at Stonehill lecture
---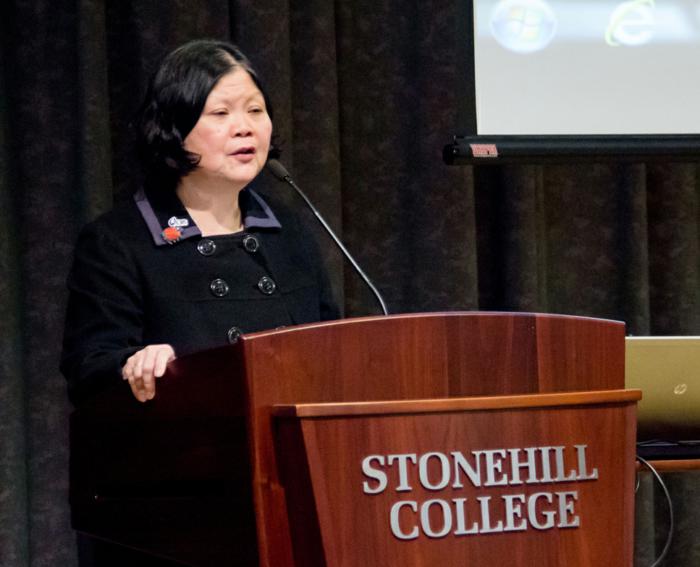 Catholic Relief Services president and CEO Carolyn Woo delivers her lecture "I am Climate Change" at Stonehill College, March 1. Pilot photo/Mark Labbe
NORTH EASTON -- The pope's recent encyclical, "Laudato Si': On the Care of our Common Home," delivers a powerful message on the importance of caring for the environment, a message that Catholic Relief Services (CRS) president and CEO Carolyn Woo echoed during a lecture at Stonehill College, March 1.

Woo, who spoke at the Vatican when Pope Francis released the encyclical last year, talked about climate change and its effects on people around the world to about 200 attendees in a lecture entitled "I am Climate Change."

In particular, Woo spoke about how climate change affects the underprivileged, such as the small farmers in Central America who are now struggling to plant crops due to warmer, dryer conditions and unpredictable weather patterns.

"These people are all completely dependent on the climate... They are the poorest people, and they are bearing the consequences," she said.

However, Woo made it clear that climate change affects people in all walks of life, and should be acknowledged and addressed by humanity as a whole.

"What we really need is a new heart, an ecological conversion... We need to develop a lot of solutions, but what drives them is not the solutions themselves but is us," she said.

Following her address, Woo took questions from audience members.