From Cardinal Seán's blog
---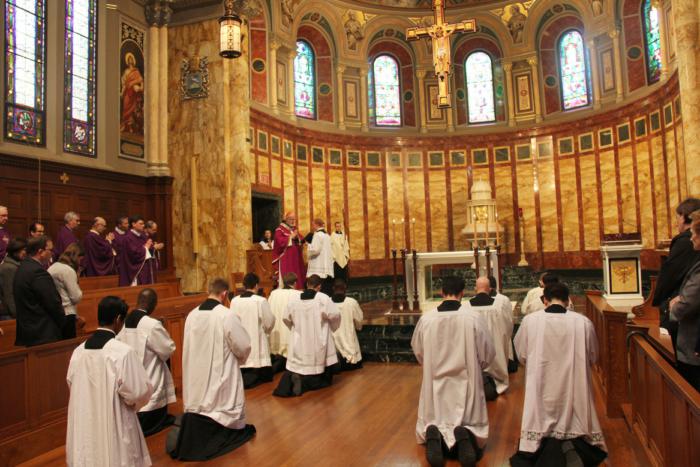 'We ended both retreats on Sunday by bringing the two groups together for the community Mass at St. John's Seminary. That Mass was also the occasion to institute 13 new acolytes.' Pilot photo/CardinalSeansBlog.org
This past weekend, we held our annual vocation discernment retreats for Pope St. John XXIII National Seminary and St. John's Seminary in different locations.

Friday (2/19), I visited the group at Pope St. John XXIII. I celebrated Mass and gave a talk for the about 14 retreatants who were there for two days of discernment. While I was there I had an opportunity to see the new library wing at Pope St. John Seminary, which has turned out just marvelously.

From there, I went to the St. John's Seminary discernment retreat held at the Betania II retreat center in Medway. I stayed with them Friday evening and all day Saturday. A large number of seminarians also participated and, in addition to the conferences that I gave, the men also had a number of witness talks and discussions with the seminarians. We ended both retreats on Sunday by bringing the two groups together for the community Mass at St. John's Seminary. That Mass was also the occasion to institute 13 new acolytes.

Mass at Regina Cleri

Tuesday (2/23), I joined our auxiliary bishops and episcopal vicars to celebrate Mass with the residents of Regina Cleri, the archdiocese's retirement residence for priests.