From Cardinal Seán's blog
---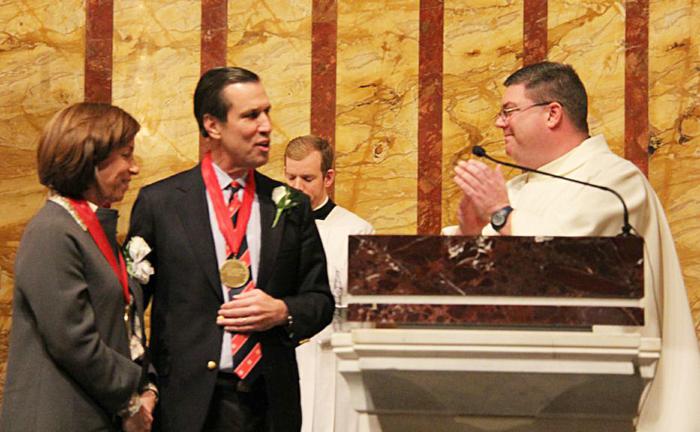 "The Gibsons were awarded the St. John the Evangelist Medal for their 'constant willingness to go above and beyond for the good of the Church, and for their faithful contributions to the spiritual life of St. John's Seminary.'" Pilot photo/CardinalSeansBlog.org
Saturday evening, I visited the Catholic Weymouth Collaborative of St. Jerome's and Immaculate Conception Parishes and celebrated Mass for them at St. Jerome's. Afterwards there was a dinner for clergy in the area.

They have a thriving Catholic school in the collaborative, St. Jerome Elementary School. So, I was pleased to be visiting them during Catholic Schools Week, this time when we celebrate the transformative value of Catholic education. Catholic schools provide not only a superior academic experience, but a place where young people can be formed as disciples of Christ and follow him to build a civilization of love.

As I like to say, we learn the faith the way we learn a language -- by living in a community that speaks that language. Catholic schools play a vital part in that mission and we are so grateful to all the students, parents, teachers, administrators and supporters who allow that work to continue.

St. John's Benefactors Banquet

Sunday, I went to St. John's Seminary for their 3rd annual Benefactors Banquet. We began our evening with a Mass, followed by the dinner.

During the evening they honored Craig and Nancy Gibson and Dr. Phil Crotty for their ongoing support of the seminary.

Dr. Crotty received the, Archbishop John J. Williams Medal, named after the founding bishop of the seminary, for his "tireless efforts on behalf of and contributions to the temporal life of St. John's Seminary."