Librarian brings the world to students at Sacred Heart Elementary, Kingston
---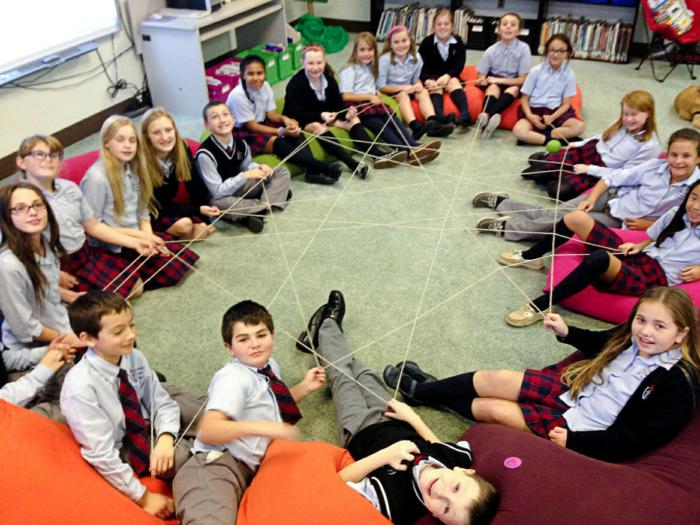 Students at Sacred Heart Elementary School in Kingston take part in an activity during the The Book Buzz book club run by librarian Carrie Mathias. Pilot photo/courtesy Sacred Heart Elementary School
KINGSTON -- Carrie Mathias is not our typical school librarian.

As the librarian at Sacred Heart Elementary School in Kingston, she does much more than shelf books.

Her level of activity is shown in the fact that she never fully stopped even to conduct her phone interview, which is punctuated with occasional side comments to students. "Yes, that is a big dinosaur," she commented to a first-grader.

"Oooh, do you want to check that book out?" to another.

"Library is a place. But digital literacy is what we do," she explained. "I teach the children how to find, filter and apply information, how to conduct online research, and I incorporate a lot of literature in the process."

In addition to the "traditional" tasks performed by a school librarian, Mathias tries to "bring to life" the stories she reads to the children.

"I think it's important for kids of all kinds to be exposed to all types of literature to open their imaginations," she said.

Every week, Mathias has a "Book of the Week" -- a picture book she reads aloud to every class.

She calls the Book of the Week "a great bonding experience" for the students.

"I have seen that the younger kids talk more easily to the older ones because they now have something in common," she explained. "Besides, I don't think you ever outgrow picture books. It's just that you begin to look at them differently."