Boston prayer breakfast celebrates legacy of Dr. King
---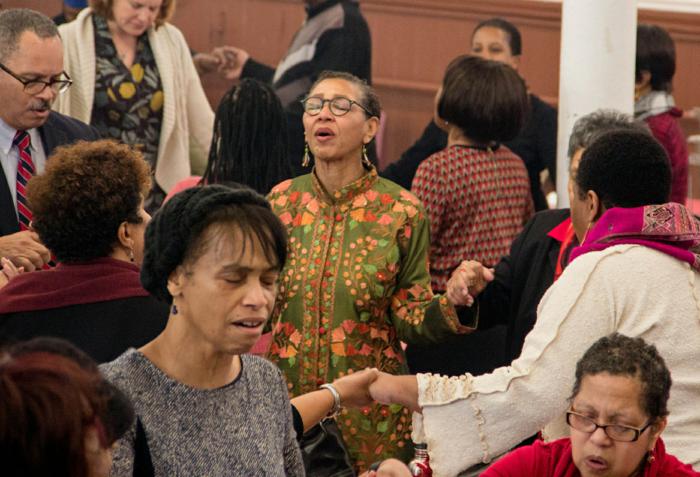 Rev. Gloria E. White-Hammond joins hands with attendees at the 31st Annual Martin Luther King Jr. Prayer Service and Breakfast at St. Katharine Drexel Parish singing "We Shall Overcome." Pilot photo/Mark Labbe
DORCHESTER -- Approximately 175 people crowded into St. Katharine Drexel Parish in Dorchester, Jan. 18, to eat breakfast, participate in prayer, and celebrate the accomplishments of Dr. Martin Luther King Jr. for the 31st Annual Martin Luther King Jr. Prayer Service and Breakfast.

Sponsored by St. Katharine Drexel Parish and The Office for Black Catholic Ministries, the prayer breakfast began with a Call to Worship, which was followed by an invocation and words of welcome from Sister Tess Brown, SCN.

"We gather in this hall to celebrate our brother, our brother Dr. King, who was the moral compass in our community, in our country, in our world," said Sister Tess.

Hymns were sung by the Archdiocese of Boston Black Catholic Choir, Scripture passages were read, and a prayer of thanksgiving was given by Father Gerald Osterman, pastor of Immaculate Conception Parish in Everett.

"Keep us, we pray, in perfect peace. Help us to walk together, pray together, sing together, and live together until that day when all God's children, black, white, brown, and yellow, will rejoice in one common band of humanity in the reign of our Lord and of our God," he said in his prayer.

After breakfast was served, an excerpt from Martin Luther King Jr.'s "I've Been to the Mountaintop" speech was read, and those in attendance were asked trivia questions about King's life.