What a missionary to North Korea told the Knights of Columbus convention
---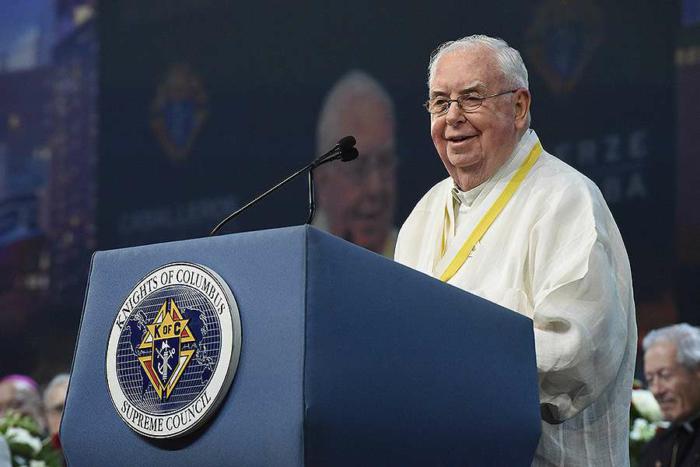 Maryknoll Father Gerard Hammond speaks at the 2017 Knights of Columbus Convention after receiving the organizations highest honor the Gaudium et Spes Award Courtesy of the Knights of Columbu
St. Louis, Mo., Aug 2, 2017 CNA/EWTN News.- Service to the poor on the peripheries of society was a theme of the 2017 Knights of Columbus States Dinner held Tuesday evening in St. Louis.

"I stand before you in deep gratitude for your love and concern for hearing the cry of the poor," Fr. Gerard Hammond, M.M. told those in attendance at the States Dinner at the annual Knights of Columbus international convention Aug. 1.

"May we always embrace those who need our mercy and compassion."

Fr. Hammond, a Maryknoll missionary to North Korea, received the Gaudium et Spes Award from Supreme Knight Carl Anderson at the dinner.

The award, named after Vatican II's pastoral constitution on the Church in the modern world, is the highest honor bestowed by the Knights of Columbus and is given to persons "for their exemplary contributions to the realization of the message of faith and service in the spirit of Christ."

St. Theresa of Calcutta was the first person to receive the award in 1992. On the award medal is an image of Venerable Fr. Michael McGivney, founder of the Knights of Columbus, comforting a widow and an orphan.