Residents, clergy, and police walk for peace in Dorchester
---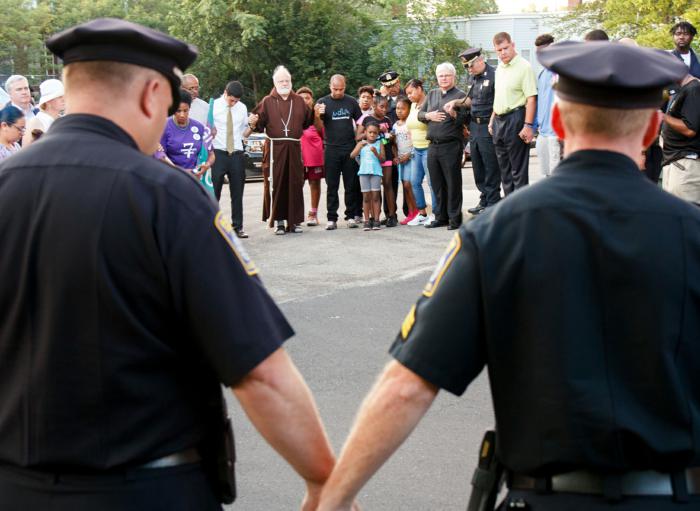 Participants in the July 11 peace walk in Dorchester join hands for an opening prayer delivered by Father John Currie. Pilot photo/Mark Labbe
DORCHESTER -- The sun was just starting to set when the flashlights came on and chants of "Light up the streets, light up the night!" echoed across Dorchester's Bowdoin-Geneva neighborhood.

The chanting, coming from dozens of voices, caused residents to open their windows and their doors to peer out at the parade of civilians, police officers, and clergy members who made their way down the streets, shining flashlights on neighborhoods that have, especially in the last few weeks, seen some dark times.

Peace walks take place weekly in Dorchester, drawing together concerned residents who wish to stop violence in the area. They were started, in part, through efforts from local religious groups, including the Catholic Church, as well as efforts from Boston Mayor Marty Walsh and members of the community.

This walk was different, however, as it combined the Boston Police Department's annual Dorchester Flashlight Walk, which brings together community members and police officers.

Among those who walked on July 11 were Cardinal Seán P. O'Malley, Mayor Walsh, and Boston Police Commissioner Bill Evans.

"These walks are extremely important," said Mayor Walsh, speaking to The Pilot.