National Catholic service program aids Boston area seniors
---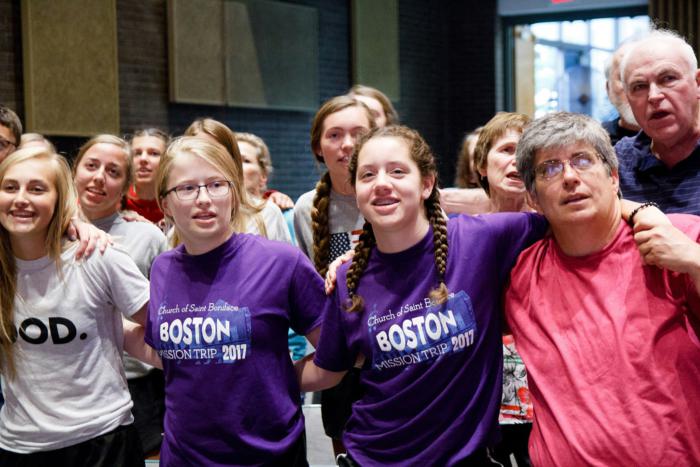 Participants in the Catholic Heart Workcamp service program are pictured with senior citizens at the program's Resident Night, held June 29 at Pope John XXIII High School in Everett. Pilot photo/Mark Labbe
EVERETT -- Saugus senior citizen Ken Nadeau sounded emotional as he addressed the hundreds of people gathered in the auditorium of Pope John XXIII High School in Everett, June 29. He was on stage thanking the young adults who had cleaned his entire house and did yard work as part of the Catholic Heart Workcamp service program, during the camp's Resident Night.

"They came in as strangers, but they left as friends," said Nadeau. "I really felt good about myself when they left, and I haven't had that feeling in many years."

These people are special... because they are under the spirit of God and are only going to do the right thing," he said.

Nadeau was just one of many senior citizens who were aided by the participants of this year's Boston area Catholic Heart Workcamp, held June 25 to July 1, which saw around 250 youth, young adults, and adult leaders travel to the Boston area from 11 different Catholic parishes across the U.S. to take part in service opportunities and strengthen their faith.

During their time in the area, the "campers" used Pope John XXIII High School as a sort of home base; sleeping, eating, and taking part in faith-based activities there while not helping out at a work site.

Yet, it was the service opportunities that took up much of the campers' time.