Knights of Columbus leader talks Pope Francis, Trump in new interview
---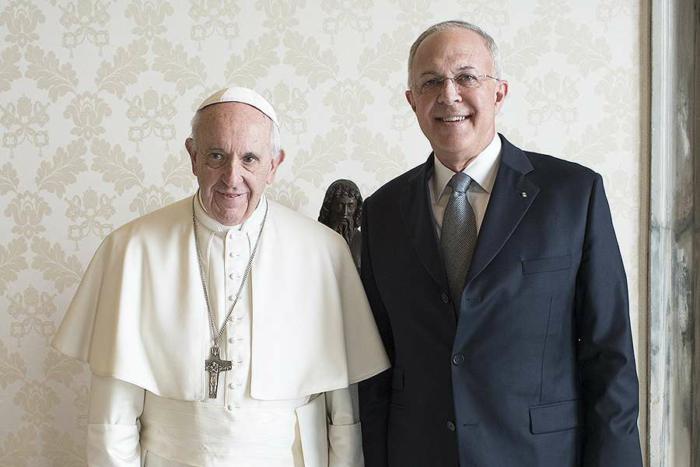 Pope Francis with Carl A Anderson Supreme Knight of the Knights of Columbus Feb 16 2017. Photo credit: LOsservatore Romano CNA
Bridgeport, Conn., May 23, 2017 CNA/EWTN News.- The leader of the nearly 2 million-member Knights of Columbus recently spoke about the importance of his group's fidelity to Pope Francis, as well as his hopes for a successful upcoming meeting between the Roman Pontiff and U.S. president Donald Trump.

In a new interview, Supreme Knight Carl Anderson touched on these topics as well as his organization's commitment to persecuted Christians, problems with how some media treats issues within the Church, and what the Knights make a priority in their charitable giving.

The organization recently celebrated its 135th anniversary at St. Mary's Church in New Haven, Conn., the church where Fr. McGivney founded the Catholic fraternity that now has 1.9 million members worldwide.

Please read below for CNA's full interview with Carl Anderson:

The Pope will be meeting the United States president this week; what should people expect from that meeting?

The pope has made clear that he is seeking common ground with the president, and I would assume the president will do the same. Some in the media focus only on the differences between the thinking of these two men, but, there is also much common ground on issues like abortion, religious liberty, persecuted Christians and human trafficking.

In what ways have the Knights worked with Pope Francis over the past few years?