Catholics called to stand against 'alt-right' views but seek dialogue
---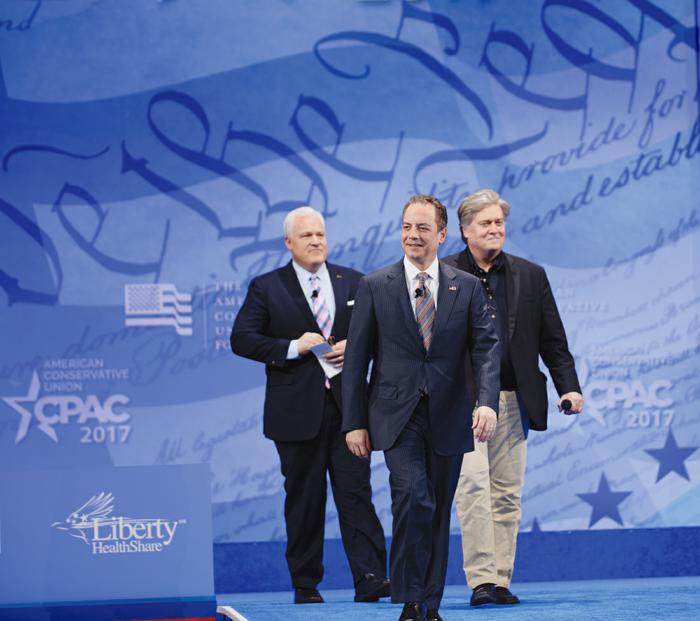 White House Chief of Staff Reince Priebus and WH Chief Strategist Steve Bannon participate at 2017 Conservative Political Action Conference (CPAC) Feb. 23. (Wikipedia, CC 2.0)
WASHINGTON (CNS) -- When the Conservative Political Action Conference, popularly known as CPAC, met near Washington in late February, the event's main organizer did everything possible to separate the annual gathering from a fringe group it said it wants no part of and whose members don't reflect their values.

"There is a sinister organization that is trying to worm its way into our ranks and we must not be duped," said Dan Schneider, executive director of the American Conservative Union, which hosts the CPAC gathering, referring to the self-described "alt-right" movement, whose followers espouse white nationalism, populism and white supremacy.

Saying the group had "hijacked the very term 'alt-right,'" Schneider pummeled away at its supporters whom he called "fascists," and angrily rebuked them for using the term, which he said up until its "hijacking" had been "used for a long time in a very good and normal way."

"They met just a couple months ago in Washington, D.C., to spew their hatred and make their 'Heil Hitler' salutes," said Schneider angrily. "They are anti-Semites. They are racists. They are sexist. They hate the Constitution. They hate free markets. They hate pluralism. They hate everything and they despise everything we believe in. They are not an extension of conservatism."