In Jesus, we reveal the face of love: The Daughters of St. Paul
---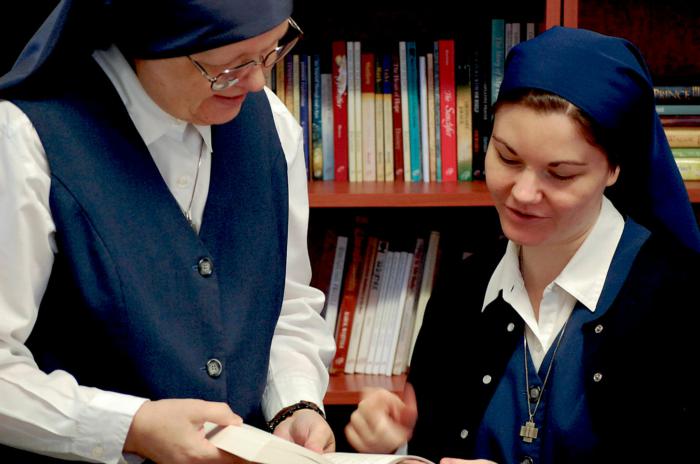 Sister Mary Lea Hill, FSP and Sister Christian Miriam Wegendt, FSP working together on a manuscript at Pauline Books and Media Publishing House. Photo courtesy/Sister Ann Richard Heady, FSP
Ask any Daughter of St. Paul why she entered the community, and the answers will be as varied as the women you ask. At the heart of each response, however, will be an absolute dedication to evangelization, to bringing the hope of the Gospel to today's world with the fastest and most effective means possible, the means of communication.

The Daughters of St. Paul are a community of vowed women religious who dedicate their lives to sharing the mystery of Christ's love with the people of today through the media. God has chosen, called, and consecrated each Daughter of St. Paul to himself so that he might send her to proclaim the Good News of a loving God who sends his Son into a world that is desperate for hope.

Our world has become a global media network that overwhelms us with information but often leaves us empty and longing for more: for love, hope, meaning, and connection. As communicators of Christ, immersed in the culture of communication, the Daughters of St. Paul offer the Gospel to all people as the way to find the "ultimate Connection" -- an encounter with Christ that will not only fill them with hope, but transform them so that they too can be Christ's love, peace, and justice in the world.