Gregorian chant enriches liturgy at Waltham parish
---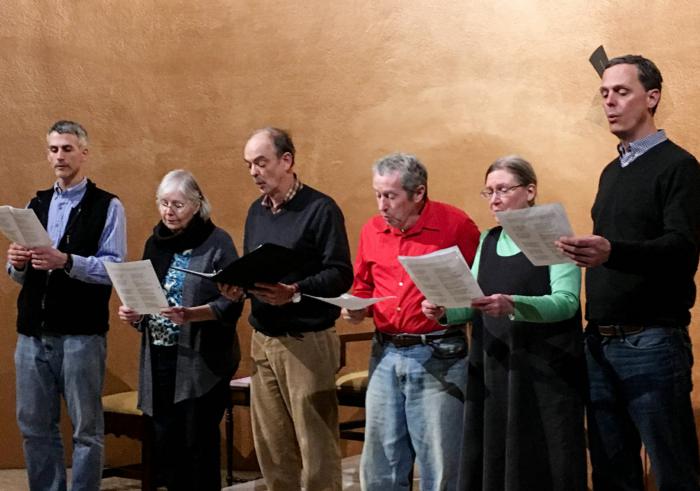 The Gregorian chant choir at St. Mary Parish in Waltham practices Feb. 21. Pilot photo/courtesy Matt LeBlanc
WALTHAM -- Decades ago, it would have been typical to hear Gregorian chant at a Catholic Mass. Today, that's usually not the case; unless, that is, it's a Mass at St. Mary Parish in Waltham.

"Other than the choir school Mass at St. Paul's in Cambridge, the monthly Mass we do at St. Mary's in Waltham is the only Novus Ordo liturgy, to my knowledge, that uses Latin Propers," choir director Randolph Nichols told The Pilot Feb. 21. Propers are the portions of the Mass that change depending on the day and are spoken or sung by the choir or the people.

A professional musician, Nichols has been the director of the choir for several years. For the last seven years the Gregorian chant choir has been singing at the first 8 a.m. Sunday Mass of the month, singing the Introit, Communion, and a post-Communion hymn, all in Latin.

"Of course there are other Propers we could be chanting," said Nichols, but the group only practices once a week on Tuesday nights, and many of the members are not trained musicians. Still, because of his direction and the years of practice, group members are "now very experienced at reading chant and singing it."

"By doing it once a month, they really do it well," he said.