---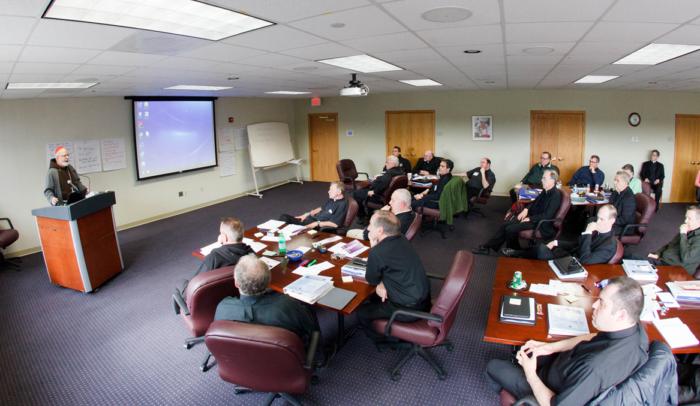 Cardinal O'Malley address the pastors of Phase II collaboratives during their training at the Pastoral Center May 6. Pilot photo/Gregory L. Tracy
Transition: noun tran(t)-'si-shen, tran-'zi-, chiefly British tran(t)-'si-zhen a : passage from one state, stage, subject, or place to another : b : a movement, development, or evolution from one form, stage, or style to another. (Merriam-Webster Online)

Transition is in the air. Monday, May 5, pastors of Phase II Collaboratives and Father Brian Kiely, episcopal vicar of the West Region gathered for their second training session in preparation for the June 3 inauguration of 20 new collaboratives. Staff from the Catholic Leadership Institute (CLI) in Philadelphia led the three-day training and helped pastors better understand and plan for the transition ahead. The mood was different from their first week of training in March. Then, it seemed that June was light years away and although the pastors worked hard, there was the luxury of talking somewhat theoretically. With June 3 less than one month away, there was a greater focus ("We want to get this right") and excitement ("Let's get started!").

Discussion began by looking at the differences between change and transition, the challenges of endings and new beginnings, and responsibilities of the leader during a time of transition. Moving conversation from abstract to concrete, pastors examined case studies involving change-related scenarios and identified strategies to help make transition easier.