Seminary pilgrims among those present for canonization
---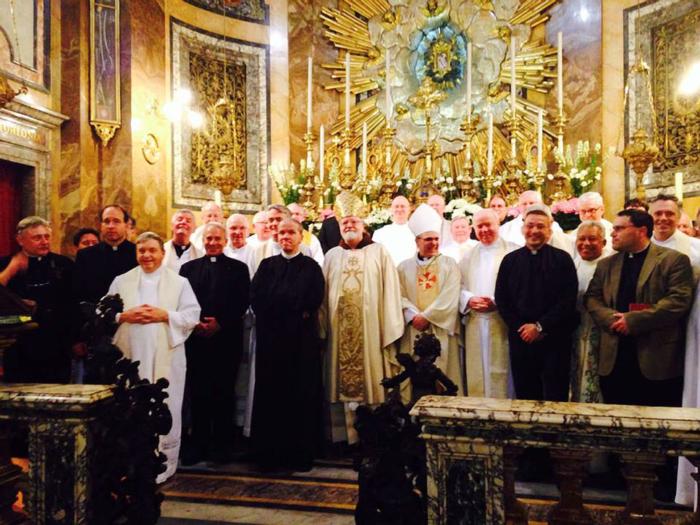 Members of the pilgrimage group from now-Pope St. John XXIII National Seminary are pictured with Cardinal O'Malley following a Mass at the cardinal's titular church in Rome April 25. Pilot photo/courtesy Pope St. John XXIII Seminary via Facebook
WESTON -- A group of some 47 pilgrims with ties to now-Pope Saint John XXIII National Seminary were among the hundreds of thousands of pilgrims gathered in Rome to witness the canonization of Pope John Paul II and the patron of their seminary, Pope John XXIII.
Seminary rector Father William B. Palardy and faculty member Father William F. Murphy were among the pilgrims.
"To be celebrating our 50th anniversary and to have our patron canonized is really an incredible moment," Father Palardy told the CatholicTV Network, while on the pilgrimage.
Those taking part in the pilgrimage left Boston April 22 and arrived back April 29, toured holy sites in Italy, reconnected with former rectors of the seminary, celebrated Mass with Cardinal Seán P. O'Malley on their trip, which culminated with the canonizations of the two popes in St. Peter's Square.
As they toured Assisi, pilgrims attended Mass at "la Chiesa Nuova" celebrated by Father Palardy.
The pilgrims experienced a Mass celebrated by the seminary's former rector, now vicar general of the archdiocese, Bishop Peter J. Uglietto at Cripta Porziuncola in the Basilica of Our Lady of the Angels, before experiencing some of the Holy sites of the area that included a stop at the basilica and tomb of St. Francis.
As pilgrims experienced a Mass celebrated by Cardinal O'Malley at Santa Maria della Vittoria, four generations of men who served as rectors of the seminary surrounded the cardinal. Msgr. Connie McRae and Msgr. Francis Kelly joined the cardinal with Father Palardy and Bishop Uglietto on the altar of the cardinal's parish in Rome.
"Knowing that our seminary is named for Pope John and having so many be able to be here to be a part of the canonization is very special," the cardinal told Catholic TV.
Father Palardy said a former episcopal priest from New York he met at one of the sight-seeing stops noted something he found significant about each of the two popes to be canonized.
"He said both of these popes lived up to their name of pontifex. You know, we call the pope pontifex maximus. Pontifex means bridge builder," he said.
Father Palardy noted a sense of universality and continuity not only in the ritual itself, but in the presence of two living popes honoring two previous popes. He said Msgr. Francis Kelly, another former rector the group bumped into on their travels, got himself and Father Murphy seats near the front of the canonization.
Page 1 of 2