Sisters of St. Joseph celebrate 140 years of ministry in Boston
---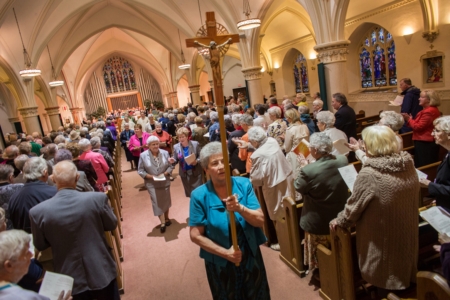 Sisters of St. Joseph join in the closing procession following an Oct. 6 Mass celebrated by Bishop Robert P. Deeley at St. Agatha Parish in Milton to celebrate the 140th anniversary of their founding in Boston. Pilot photo/George Martell, Pilot Media Group
MILTON -- The Sisters of St. Joseph came to the Archdiocese of Boston 140 years ago to teach, which continues to be a critical part of their mission today. In 1873, four sisters traveled from Brooklyn, N.Y. at the request of Father Magennis of Jamaica Plain who knew of their reputation as good teachers. Since that time, they have staffed over 130 educational institutions in the archdiocese, including the most recently established school, St. Joseph Preparatory High School in Brighton, which was founded last year.

The Sisters of St. Joseph celebrated the 140th anniversary of their founding in Boston with a Mass at St. Agatha Parish in Milton. They were the first teachers at the parish's school 72 years ago.

After the service, James Dowd, a St. Joseph's board member, called the sisters the "primary drivers" in Catholic education in the Boston area. He said the Mass celebrated the sisters' legacy and their continued mission.

Head of the Brighton school, Thomas Nunan Jr., agreed, calling the sisters a "great blessing" to the students. Every day, the students witness the sisters' "living faith."

"The sisters bring a real prayerful presence to our school," he said. "They are so faithful and open. It is no wonder that they are known for their gracious hospitality."