Sunset Point Camp 'will always remember' women's club
---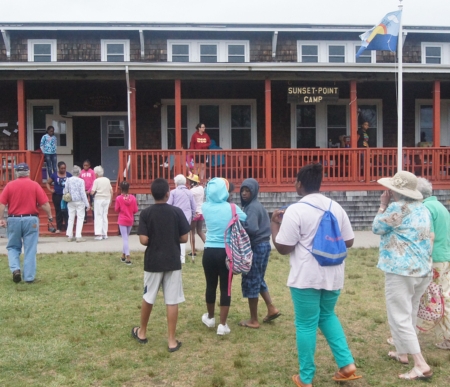 Campers greet Proparvulis Club members at Sunset Point Camp, run by Catholic Charities, for the final "Proparvulis Day" at the camp in Hull, July 25. Pilot photo/Christopher S. Pineo
HULL -- The Proparvulis Club, a group of women who volunteered at Sunset Point Camp in Hull -- a summer camp for at-risk, low-income children -- for more than 90 years said goodbye to the campers, July 25, at the final "Proparvulis Day."
"We are so happy to have you here. A big thank you from myself, the whole staff, the kids, and all their parents, without all of you we wouldn't be here. So, thank you. Hopefully you aren't strangers in years to come. We always like having visitors," said Brian Ahl, director of the camp.
The club announced that they would end operations at their 90th anniversary gathering in May, and the treasurer presented Sunset Point Camp with a final donation at the event Thursday.
"Our club motto was: 'having fun while doing good.' I know I have had fun in my 60 years. I hope all the campers have had fun, but I guess we have done some good along the way. Since this is our final day at camp -- maybe not yours but ours-- we are very happy to present our final check in the amount of ninety five hundred dollars," Beverly Baker, treasurer for the Proparvulis Club, told the campers. "We wish all of the campers as many happy memories of the camp as we have. To the campers and the staff, we wish you well and a wonderful future."
Proparvulis means "for the little ones" chosen as the club dedicated its service to children and became an important source of support for the camp since the club was founded in 1922.
"We will always remember your fine spirit, that spirit of doing good and having fun," said Deborah Kincade Rambo, president of Catholic Charities -- the organization responsible for the camp since the Massachusetts State Council of the Knights of Columbus donated it to the organization in 1918.
More than 30 members of the club attended as campers presented a program and presentation for their guests, greeting them as they arrived and escorting them into the dining area.
"All of the children appreciate everything that the club has done over many years," Beth Chambers, director of Catholic Charities South and former director of the camp, told the guests.
Some of the attending club members donned large hats --a relic from the dinner dances the Proparvulis Club used to host -- while some campers wore plastic hats decorated with glitter and words.
Page 1 of 2