Cardinal to present 121 Cheverus Awards Nov. 18
---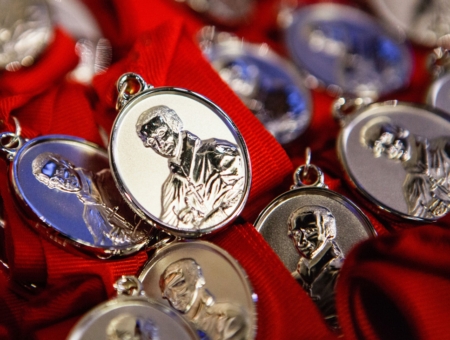 The Cheverus Award Medal is made of sterling silver and bears a likeness of Bishop Cheverus based on the Gilbert Stuart portrait. On the reverse side is Bishop Cheverus' coat of arms. Pilot file photo/Gregory L. Tracy
BRAINTREE -- Cardinal Seán P. O'Malley will present 121 Cheverus Award Medals to laypersons, deacons and religious during a 3 p.m. service on Nov. 18 at the Cathedral of the Holy Cross.
First presented in 2008 at the conclusion of the archdiocese's bicentennial, the annual award recognizes Catholics for their dedicated service to the Church. The medal is named for the city's first bishop, Jean-Louis Anne Magdelaine Lefebvre de Cheverus, who led the diocese from 1808 until his return to France in 1824. Bishop Cheverus died in 1836 as the Archbishop of Bordeaux.
The oval-shaped medal is made of sterling silver and bears a likeness of Bishop Cheverus based on the Gilbert Stuart portrait. On the reverse side is Bishop Cheverus' coat of arms.
The medal recipients are chosen for their service to the Church and God's people. Most recipients are nominated by their pastor, forwarded by their area vicar and approved by their regional bishop and Cardinal O'Malley. Some recipients are personally selected by Cardinal O'Malley.
Each year, one third of the parishes of the archdiocese are asked to nominate a parishioner, therefore most parishes will have one honoree every three years. The criteria given to pastors is that the nominee should be a lay person who has served the parish well over an extended period of time and has done so in a quiet, unassuming and, perhaps, unrecognized fashion.
The Regional Bishops each year are asked to nominate from their respective regions a religious and a deacon of similar qualifications to be honored with the Cheverus medal. The Central Ministries of the archdiocese also make nominations from among religious, deacons and lay persons who serve on archdiocesan committees or lead important ministries.
Including this year's group of 121 recipients, there are 517 individuals and couples that have been named Cheverus medalists. There were 68 awardees in 2008, 133 in 2009, 98 in 2010 and 97 in 2011. The medals are typically presented on the Feast of Christ the King, which ends the Church's liturgical year. Because Pope Benedict has called a consistory in Rome this year on that date, Cardinal O'Malley is presenting the awards a week earlier.
There is no limit to the number of family members and friends who can join the honoree at the cathedral. The presence of the pastor and a delegation of parishioners is encouraged to help underline the appreciation and gratitude of the parish towards the honoree.
For more information on the award and for a list of previous award recipients is available at
www.BostonCatholic.org/cheverusawards.aspx
.
Following are the 2012 Cheverus Award recipients:
Anna Abbruzzese, Cohasset
Deborah Albano, Tewksbury
Deacon John Alexander, Merritt Island
Mary Beth Ammann, Somerville
Dr. Angelica Avcikurt, Chestnut Hill
Judith Bell, Dorchester
Cecile Benotti, Weston
Sister Kathleen Bettencourt, OCarm/P, Peabody
Donna Biggins, Sudbury
George and Joan Bishop, Somerville
James Bocelli, Malden
Charles Braid, Revere
Sister Mary Braley, S.C.N., Newburyport
Deacon Robert Breen, Medford
Madelyn Brown, Medford
Timothy Buckley, Waltham
Kathleen Callagy, Lawrence
Stephen Cavanaugh, Brockton
Peter and Laura Chan, Stoneham
Mary Frances Chisholm, Tyngsboro
Dr. Henry (Hang Rok) Cho, Canton
Sister Maureen Clark, CSJ, Watertown
John Collier, Braintree
Margaret Costa, Boston
Olga de los Santos, Lynn
Lawrence Destefano, Lexington
David and Anne DeVoe, Salem
Shirley Di Iorio, Jamaica Plain
Felicia DiFeo, East Boston
John DiMasi, Billerica
Patricia Dineen, Belmont
Marijane Dosdall, Wellesley
Joyce Durst, Mattapan
John Dwyer, Duxbury
John Ellis, Jr., Brighton
Mary Fagan, South Boston
Anne Farmer, Danvers
Madeline Feldmann, Braintree
Herondina Ferreira, Watertown
Elizabeth Folloni, Bridgewater
Iwona Gajczak, Quincy
Joseph Galluzzo, Andover
Elaine Garcia, Marlborough
Kathleen Garon, North Andover
Ann Garvey, Natick
Anna Gaudet, Newton
Page 1 of 2