Local Catholics reflect on Pope John Paul's legacy
By Jim Lockwood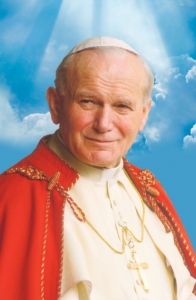 Pope John Paul II is pictured in an image released March 25 by the postulation of his sainthood cause. The Polish pope, who died April 2, 2005, will be beatified May 1. CNS photo/Grzegorz Galazka, courtesy of Postulation of Pope John Paul II
Posted: 4/29/2011
BRAINTREE -- Reflecting on the profound effect Pope John Paul II had on the Catholic Church and their own personal experiences of the late pope, several local Catholics, including Cardinal Seán P. O'Malley, are excited for his beatification.

"His ministry certainly has had a huge impact on the course of history and the world," Cardinal O'Malley said April 26 as he was preparing to depart for Rome.

Cardinal O'Malley is slated to attend the scheduled beatification Mass May 1 in St. Peter's Square. The Mass will be celebrated by Pope Benedict XVI and organizers say it may be attended by over 1 million people.

The cardinal has been in the pope's company numerous times in his priesthood. The first time Cardinal O'Malley met Pope John Paul was at a January 1979 conference in Mexico organized by the Latin American bishops' conference. At that time, Cardinal O'Malley was a priest ministering to the Hispanic community in Washington, D.C.

Cardinal O'Malley also recalled Pope John Paul's appearance in Washington later that year during his first visit to the United States, as well as attending various World Youth Days and papal visits to Latin America.

"He was always warm and gracious and just a very human person who enjoyed good humor, was interested in people and was energized particularly by the presence of young people," Cardinal O'Malley said.

The cardinal also noted the pope's commitment to building relationships with the Jewish faith, ending communism that plagued Eastern Europe and his native Poland during his lifetime, his dedication to the youth and promoting vocations, and teachings on marriage and family life.

"All of these were a great grace for the entire Catholic community," he said.

David Franks, a professor at St. John's Seminary, praised Pope John Paul's contribution to the intellectual life of the Church.

He particularly praised his Theology of the Body, laid out in a series of 129 talks the late pope gave from 1979 to 1984, focusing on the meaning of human sexuality and marriage in light of biblical revelation.

"The Theology of the Body is a theological treasure that we have only just begun to appreciate in America," Franks said.

"The battleground is human love," Franks continued. "In a hookup culture, we've gone very far away from what it means to love someone truly. Since the Gospel is about true love, I can't see witnessing to Jesus Christ without this theological contribution."

Franks partly credits the pope for influencing his own conversion to Catholicism.

"The very presence of John Paul in the world drew me, even when I was a Baptist in Arkansas," said Franks, who was received into full communion with the Church in 1998.

Andreas Widmer, a former member of the Swiss Guard who is today a Boston-based business consultant, praised the widespread impact the late pope could have on future generations, likening his influence to Christian thinkers such as St. Augustine and St. Thomas Aquinas.

"John Paul's insights into the Christian life are so profound that we will chew on this for the next 100 years," Widmer said.

"He places our faith and the Christian message into the context of today's culture, helping people understand Christianity and the Christian life and message in a way that answers today's questions," he added.

Widmer served as a member of the Swiss Guard, providing protection to Pope John Paul from 1986 to 1988.

Though a "cradle Catholic," Widmer said he initially joined the Swiss Guard because of the allure of enlisting in an elite military organization, rather than for religious reasons.

However, he said the experience of being in the guard was "life changing."

"Through John Paul II, I made the faith my own," he said.

Widmer recalled a Christmas Eve encounter with the pope, when he was missing family and friends at home.

Seeing his distress, the Holy Father stopped to offer him words of consolation.

The pope "just reached out to me at a low time in my life, noticing the state of my soul being very sad and seeking," he said.

Widmer recalled another instance when the pope handed him a Rosary while he was guarding him during a monthly radio appearance.


Page 1 of 2

If you found this article interesting please consider helping us continue to spread the Good News.